Spring Insulation Special
Get $500 OFF a Whole House Insulation Package!
Offer expires 5/31/17. Contact us today!
Qualify for a discount if $500 does not exceed 15% of total job cost.
At Summit Insulation we pride ourselves in being the leading home insulation provider in Baltimore, Maryland and the surrounding areas. We offer a turn key service making it easy for our customers to transform their older drafty homes and buildings into comfortable and energy efficient living spaces.
"It has been calculated that 35% of heat loss in older homes is wasted through the exterior walls."
– The Department of Energy
Call (410) 644-8000 or fill out the form below to get a free estimate.
Our Mission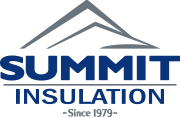 At Summit Insulation our goal is to provide the highest quality insulation services the area has to offer. With every customer, we aim to turn their home or building into a more comfortable and energy efficient place to live and work. Our commitment to customer service is the reason Summit Insulation has become Maryland's leading insulation contractor.
We are very pleased with the finished product. I wish all people could use your product and save money. Thanks!
We wanted to take this opportunity to thank you for insulating our second house. We were so pleased with the results from the first house you did for us, we had to do this house also. We were able to cut our bill approximately 40% at the first house and hope we will have similar results here.
Everyone I have dealt with through this process has been terrific! Really nice, helpful guys.
Thanks!
Your crew came to insulate my house. I am writing you to let you know they did an excellent job. They were very professional and polite. They cleaned up after themselves and left my property in such a condition that you would never would have known they were here. Please give them my thanks again.
Save Big on Energy Costs
Whether you need to cool a room or area of your home, like your attic, Summit Insulation can help you save big on energy costs and keep your home cool this summer. Insulation installation by qualified courteous professionals, Baltimore, Maryland's leading insulation contractors, serving Greater Baltimore, Washington DC, parts of Pennsylvania and Virginia, since 1979.
Contact us today to request a free estimate for your home in general, basic, attic or any other space that could be more energy efficient. We'd love to save you money and help you stay cool in the summer heat.
Improving comfort and saving money on energy costs in the Maryland area since 1979