Who We Are
Summit Insulation opened in 1978 to answer the call of this country's first energy crisis.  We have 36 years of experience in providing the most professional insulation services for homes and buildings throughout the Maryland area.
Our Mission
At Summit Insulation our goal is to provide the highest quality insulation services the area has to offer.  With every customer, we aim to turn their home or building into a more comfortable and energy efficient place to live and work.  Our commitment to customer service is the reason Summit Insulation has become Maryland's leading insulation contractor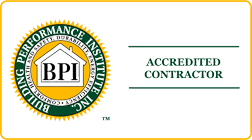 As a certified BPI (Building Performance Institute) Building Analyst and Envelope Professionally certified company, Summit Insulations team have been been trained in the house-as-a-system approach.  As BPI Building Analysts, Summit Insulation auditors are certified to conduct blower-door tests, combustion appliance inspection and repair, air quality testing including carbon monoxide detection, duct testing and airflow testing.

LEED (Leadership in Energy and Enviornmental Deisgn) is a voluntary, consensus-based, market-driven program that provides third-party verification of green buildings.  Homes, commercial buildings, neighborhoods, and communities are all transformed by the way LEED operates.  Summit Insulation provides a variety of insulation services qualifying for LEED credits.